 I´ve written my last post about the update problems of Owncloud. Indeed it was only a little bug, about which I´ve reported, so it´s time to tell you more about the great features of Owncloud now. For me Owncloud is even better than Dropbox – why? Carry on.

Open Source
The most important reason to use Owncloud is, because it´s open source. Means, that you can not just get the whole code for free, you can also develop and take a look into the code. Installing and setting up your own Owncloud is therefore rather simple. And your data is yours again and don´t reside at foreign servers at the US anywhere. What do you need to set up your own cloud? You can simply use a webhosting. Installing Owncloud is as simple as installing WordPress. Even small installations don´t need a database connection anyway.
Requirements
If you want to start with Owncloud by your own, just rethink the following questions:
How many files do you transfer regularly (=> server load, could slow down other websites on your server)
How many space do you need (=> has my webhosting enough space?)?
How many people should have their own access to Owncloud?
Which maximum file size do you have (=> PHP settings at your webhosting when you upload via browser)?
Is your server / webhosting using SSDs?
Have you got a traffic flatrate and a fast connection?
Have you got a SSL certificate?
Especially the last five questions decide, wether it´s possible to use webhosting or not. SSDs are quite important for reading and writing files fast. Traffic and a fast connection are the most important elements, which you have to recognize. If many people should use one Owncloud installation don´t use webhosting. Finally don´t forget the PHP settings at your server, which decides in which time and how large your files uploads could be when using the browser.
On the user side
I´ve pointed out the relevant technical features. What has the user to know about?
Files management
Files can easily uploaded and downloaded, deleted, shared, moved – directly at your web browser, at your client program on desktop or even on your mobile at android and iOS. Equally to Dropbox you select a local folder and every file you put into it will be synced with your Owncloud and shared through all clients.
Deleted files are kept for 30 days and are automatically deleted. Certainly there is also a file versioning, when you upload the same file with a few changes: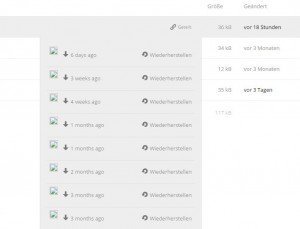 Sharing / Import
Synced files could be accessed and shared through the web interface, at the app on mobile or with your client on desktop:
with other Owncloud users at same installation or even with other Owncloud installations.
through URL: here you can set an expiration date, a password or public upload. This URL can be sent via mail.

Owncloud supports different file storage services: Dropbox, SFTP, Amazon etc. This has to be enabled by an admin and can be configured on your own profile. Beside of adding Dropbox – which would not be very smart – you can also add other Owncloud spaces.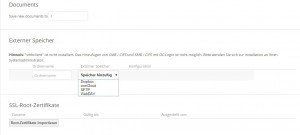 Mobile
Owncloud could also be used at android and apple mobile devices. On mobiles you can use it like whatsapp, means you can share files similarly with the share button at your gallery. Synced files can be downloaded within the Owncloud app.
Desktop
The desktop client of Owncloud is available for all OS and by now nearly as far developed as the one of Dropbox: Green check marks on successfully synced files, different Owncloud spaces could be added, settings to your internet connection could be made, activity report etc.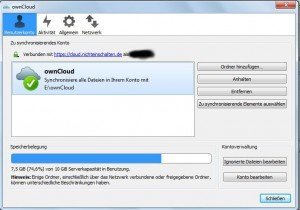 The sharing button via right click on your desktop is new – similar to Dropbox: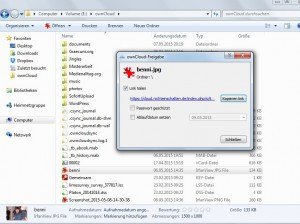 Apps
One bigger difference to Dropbox is the app store of Owncloud: contact, calendar, office etc. Like WordPress you can expand your Owncloud installation with different apps. WebDav and CalDav are also available, but a little bit unhandy to configure on your mobile device – for me it doesn´t turned out like I expected to, which also is caused by the mobile OS.
Security
Owncloud works with https only. Your server should have a valid and strong SSL certificate. All login credentials are transfered encrypted. Furthermore all files can be saved encrypted at the server: you could only read your files at the clients. Every user could also be notified by mail, if something was changed: New files, new shares etc.
I want to have Owncloud!
You´ve got two possibilities: host your own Owncloud and manage all your files
OR
you write me a few lines, add a comment etc and I will set up an account on my Owncloud installation for a few bucks. On this way you start as user and don´t have to handle all the server stuff. If enough people are interested in such a service I could start an Owncloud server within a week.